On July 30, 2021, three (3) simultaneous emergency drills on different scenarios were conducted at the SCIC Central Office including the following 1) Earthquake; 2) Fire Evacuation; and, 3) Rescue of the injured person. These drills were participated by 106 personnel to ensure the preparation of employees and all emergency facilities in the company premises.
EARTHQUAKE DRILL
The drill started at 9:00 in the morning with all employees proactively practicing the duck, cover, and hold as one of the first and basic safety measures followed by the evacuation and headcount of employees.
FIRE DRILL
After the earthquake drill, a fire was reported to the ERT. The ERT Fire Brigade team responded to the place of incidence with the electrical fire in progress at the Operations Management Department (OMD) Office.
They operated the fire extinguishers using the P.A.S.S. technique: P for Pulling the pin on the fire extinguisher in order to break the tamper seal; A for the Aiming the fire extinguisher low, with the nozzle pointed at the base of the fire; S for Squeezing the handle of the fire extinguisher to release the extinguishing agent; and, S for Sweeping the nozzle from side to side while pointed at the base of the fire until it is extinguished. After the PASS technique, the drill was assessed to be an Emergency Alert Level 2, which case, this does not require the Bureau of Fire Department nor external assistance; however, should it raise further to Emergency Alert Level 1, a need for external assistance will then be needed and BFP hotline shall be dialed accordingly by the ERT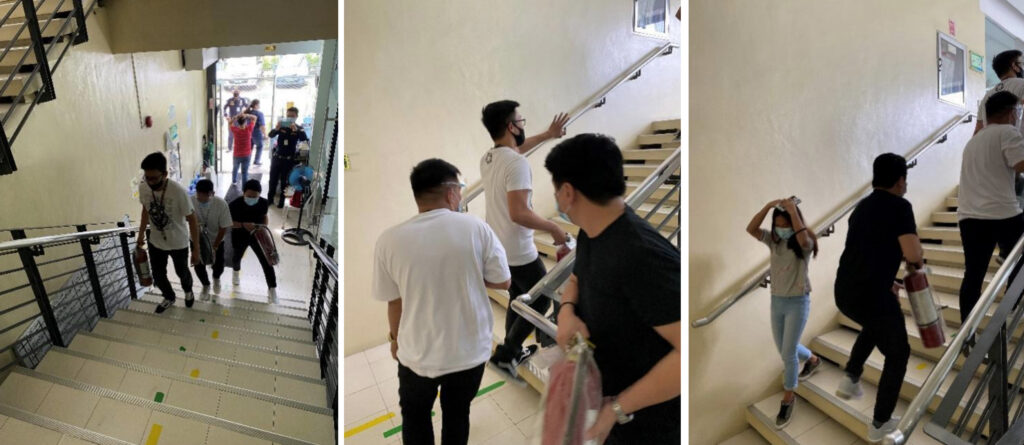 FIRE-FIGHTING WITH INJURED PERSON
During the fire drill, one (1) of the evacuees informed the ERT of an injured employee who in turn conducted an emergency retrieval to look for the missing and injured employees. The ERT team carefully brought them to the first aid area to assess their condition and upon the administration of the first-aid procedure, the victims were brought to VRP Medical Center.

After the series of emergency drills, a short briefing was done to address matters of improving disaster response. Through these drills, SCIC aims to equip its employees with the proper awareness and response to deal with an on-the-spot-disaster scene.