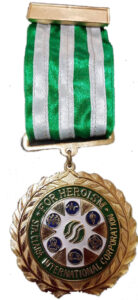 Naujan, Oriental Mindoro – On February 27, 2016, Sta. Clara International Corporation (SCIC), represented by Asst Vice President for Administration Ms. Reynalyn O. Caudilla, gave the SCIC Medal for Heroism to its 29 employees from the 8 MW Catuiran Hydroelectric Power Plant (CHEPP) Project team for their actions during the onslaught of Typhoon Nona. Ms. Caudilla said the SCIC Medal for Heroism is awarded to Sta. Clarans who demonstrated exemplary courage in saving lives and acts of selflessness rendered for the well-being of others.
On December 18, 2015, the typhoon destroyed 15,000 houses or 83 percent of the 18,000 homes affected by the cyclone in Mindoro a few days before Christmas. During the height of the typhoon, these employees went outside of their site to selflessly respond to the needs of their community. Headed by Project Manager Mr. Albert B. Mendoza, they rescued 29 individuals (including a 7-year-old boy and a 60-year-old man) from danger and showed extraordinary valor above and beyond the call of duty.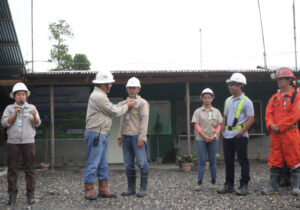 The following SCIC employees were awarded:
Araneta, Arnelo E.
Bandiala, Jerry JR. V.
Dannang, Godfrey D.
Dannang, Jefferson D.
Diazen, Sencio S.
Duyao, Allan F.
Duyao, Gaston L.
Duyao, Zaldy L.
Gaa, Leonardo V.
Gaquit, Crispin JR. G.
Gavino, Joshua R.
Lagoyyo, Bernard T.
Lipawen, Debby L.
Lleva, Michael Angelo D.
Medallada, Crismart A.
Olaya, Archie H.
Pasing, Efren T.
Payba, Larry M.
Ricarte, Roldan D.
S/G Calimlim, Jovito H.
S/G Ebenga, Jonathan Q.
Sembrano, Ryan C.
Taryachen, Angel F.
Tayona, Dexter B.
Tello, Genesis S.
Tello, Nestor S.
Tello, Raymond D.
Trinidad, Randy S.
Yadao, Florante C.